Double-O-Spot Advertising / Sponsorship <!MUST_VIEW_SOURCE_FOR_WWW_coupon>
<!SOCIAL_START> <!SOCIAL_END>
Web Site: http://oospot.com
One of the top party, event and rave promoters in Hawaii. The OOSpot.com dance/party community has an incredible amount of buying power and influence with 16-35 age group in Hawaii. View their photo galleries. We have both free trial sponsorships and paid sponsorship packages available.

Call Ernest at 808-739-9797 for more details, costs, website statistics.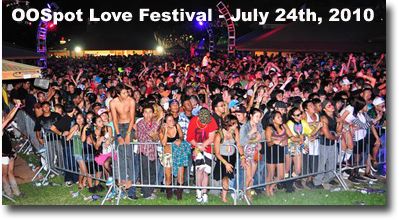 Demographics: OOSpot.com community attracts young, artistic, trendy, cool, hip and sociable individuals, who are always in the know about the latest trends in fashion, music, food, business and technology.

3,000-5,000 unique visitors a month and 150-300 website visits per day.

OOSpot.com has been throwing parties in Hawaii for 18- years and is well-respected in the community.

The oospot.com community likes to support the businesses that support the community.
BONUS OPPORTUNITIES/IDEAS WITH OOSPOT.COM!
Banner at OOSpot events

Radio on-air commercials

Booth at OOspot.com events

Event flyers with your logo

Color posters with your Logo

Get featured on radio ads

Get feature on videos

Email blast

Facebook and Twitter promotion

Become a ticket outlet and drive traffic to your business.

If a OOspot patron wears your product or produce a receipt, they can get in free to an OOspot Event.

and more...

ref no:8065

Back | Home>> Directory >>Website Publications





<!#998MultiTitleStart>TESTIMONIALS & RELATED LINKS<!#998MultiTitleEnd>

<!#998MultiTableStart>

Liquid Emotions
Company: Liquidemotions.com
Name/Title: Matthew Stoll - Owner
Date: 3/6/2011
Website: OOSpot.com
Product/Service: OOSpot.com Advertising
View Liquid Emotions Profile


OOSpot is Hawaii's #1 stop shop for the latest and greatest events and promotions! Working with OOSpot has been a blast, from their exceptional customer service and support, to their informative website and event listings, thanks OOSpot! Liquidemotions looks forward to working with you again this year and into the future! (over 100 promo code requests for purchases over $100 received)
---
Mushroom Music Festival OCT 2010- Oahu Photo Gallery
---
Love Festival Hawaii July 2010 Photo Gallery #2
This was the largest Love Festival Hawaii EVER! Photo Credit: Cameron Peppers/WTFHawaii
---

Advertising and Sponsorship On MBC High Traffic Websites
A more direct way to reach your target audience. Advertise on one of our premier websites and get your brand noticed by your target audience! Our commitment is long term. More...
---

Double-O-Spot
Date: 3/31/2009
Name: Greg Dehnert
Company: Double-O-Spot
Product: MBC Web Site Solution
Web Site: www.oospot.com

I'm very happy and surprised with the level of success I'm now experiencing in such a short period of time with the MBC Web Site Solution. I was hesitant about the MBC Web Site Solution and I did not particular like how MBC Web sites looked.

However, after discussing with Ernest Abrams how the MBC Web Site solution works and what MBC would do for me, I took the plunge/risk and purchased the MBC Web Site Solution two months ago.

I'm already getting over a 2500 unique visitors a month, as well as email additions and new opportunities everyday. The system I'm now using to keep my community informed through my website is rapidly turning into revenue. I can directly attribute some of my recent success to my new website built by MBC, and consider it one of the best investments I have made for my company in 2009 and years past.

MBC/Ernest Abrams is accessible and supports his client's Web sites in a manner that other companies should emulate. I'm very happy that Ernest Abrams is on my team. It is with pleasure to highly recommend trying something new and buying a MBC Web site solution.
---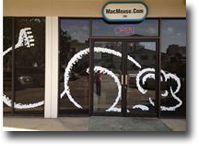 MacMouse Club Advertising / Sponsorship
MacMouse Club has been working with Macintosh community and Apple users offering sales, service and repair for over twenty years. Reach a target market who tend to be artistic, trendy, cool, hip and sociable individuals, who are always in the know about the latest trends in fashion, music, food, business and technology.
---
<!#998MultiTableEnd>