KaimukiHawaii.com is proud to announce that we have exceeded over 10,000 unique visitors in the month of April! Mahalo for your support in helping us reach this is great milestone! KaimukiHawaii.com is owned and operated by MacBusiness Consulting as a community service to the Kaimuki community. Completely FREE for over 5 years!.


If would like to support this free community website and reach out to the Kaimuki community by becoming a sponsor/advertiser call Ernest at 808-739-9797 or Email. View profile/website statistics..

Visit KaimukiHawaii.com

<!#997MultiTableStart>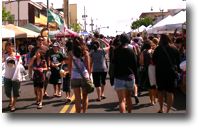 Kaimuki, Hawaii Advertising / Sponsorship
The Kaimuki, Hawaii community is a densely populated, upscale urban neighborhood that has a It has an incredible amount of buying power. We get about 400-500 website visitors per day.
---
Advertising Testimonials
See what our satisfied customers are sayings about advertising on MBC High traffic websites.
---
<!#997MultiTableEnd>
<!#998MultiTitleStart>RELATED LINKS<!#998MultiTitleEnd>

<!#998MultiTableStart>

KaimukiHawaii.com (1000+ pages)
KaimukiHawaii.com is a Web site dedicated to bringing those interested in the Kaimuki, Hawaii community together. It utilizes a variety of MBC exciting Internet/database technology. KaimukiHawaii.com is owned and operated by MacBusiness Consulting as a charity to the Kaimuki, Hawaii community. Read details/features about this Web site.
Focus: Community/event based Web site extensive business directory, online calendar and news.
---
Kaimuki Website Testimonials
See what associations, churches, merchants and more have to say about Kaimuki Hawaii.com
---
<!#998MultiTableEnd>