<!HEADER START>
<!TITLE START>

Why Buy the MBC Contact Manager Database

<!TITLE END> <!SOCIAL SECTION START>
<!HEADER END>
<!#450IMAGESTART>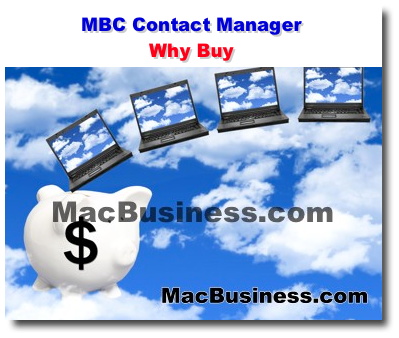 <!#450IMAGEEND>
<!#43START>
Your Current Contact Management System is Not Working
- Your current system is not working or does not do what you want it to do and you feel there has to be a better way.
Make You and Your Staff More Scalable
- The MBC Contact Manager Database has proven to increase user's abilities to manage and communicate with more contacts.
Powerful Marketing/Communication Tool
- You have a great product or service and need a quick and efficient tool to track, manage and communicate with your customers and prospects. If you are not sending out "personalized" broadcast faxes and E-mails to your contacts, you are missing a great opportunity.
Challenging Times?
- Staying in touch and being proactive with your customers and prospects is very important in this current economy! Could you increase your competitive edge by installing a system to automate your operations and improve your service?
Contact Tracking
- Do you have a follow-up system so you never orphan your contacts? Can you code and find groups of contacts easily and efficiently? Can you pull-up a contact's history quickly? If you answer no to any of the above questions, the MBC Contact Manager Database is the tool for you.
Easy to Use
- The MBC Contact Manager Database 5.0 is very easy to use. No icons to translate, no functions buried in menus and easy navigation to all functions.
Excellent Support
- MBC provides a high level of support. We provide the necessary technical support, but more importantly, we are business consultants that assist you in using the MBC Contact Manager Database to increase your productivity and income in "your" business.
Proven Track Record
- The MBC Contact Manager Database has been helping hundreds of users manage their contacts since 1994.
Flexible/Expandable
- Add custom modules/features to address your specific needs. We are FileMaker® Pro experts and we can program additional features and functions to meet your specific needs.
Contact Management is Important
- Management studies have proven conclusively that customer satisfaction and referrals are directly related to the consistency of contact management.
<!#43END>
ref no:4582
<!#999SPACERStart>
<!#999SPACEREnd>
<!#999SPACERStart>
<!#999SPACEREnd>
Please send questions about this website to
webmaster