<!HEADER START>
<!TITLE START>

MBC Contact Manager Cost

<!TITLE END> <!SOCIAL SECTION START>
<!HEADER END>
<!#450IMAGESTART>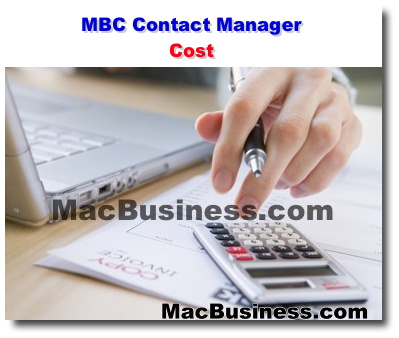 <!#450IMAGEEND>
<!#43START>
The MBC CMDB is only sold as a package solution (template, customization and support) which ensures you will be able to use it for your work on day one. This is one of the reasons why the MBC CMDB has been a great success and provides exceptional value and return on investment for customers who have purchased it. Below are the basic components required if you choose to purchase the MBC Contact Manager Database 5.0:
Prices subject to change without notice
BASIC COSTS
MBC CMDB Template Cost
Purchase of the MBC CMDB Template (Single User) $249.00
MBC Project/Admin Module $500.00
MBC CMDB Product/Services
Customization Fee (1) $400.00
Note: We customize the MBC CMDB with your logos, letterhead text, initial users and other tasks necessary for you to start using the MBC CMDB.
MBC Support Contract for Installation/Training/Follow-Up Support $550.00
Note: MBC Support Contract - 5 hours at $110.00/hour. Larger contracts are available at a discounted rate.
Solution Cost $1699.00
1 copy of FileMaker Pro application is required. $549
Total Cost $2197.00
OTHER COST CONSIDERATIONS (NOT REQUIRED)
Multi-User & Data Conversion Cost
Additional CMDB Mult-User Cost(2-5=$40/Per User ** 6-10=$35/ Per User ** Unlimited Users=$500.00)
Data Conversion Fee Note: We take your existing database of contacts and convert/import the data into the MBC CMDB 5.0. MBC is unable to quote you an exact price, because this task can be easy or complex depending on the structure/integrity of the data and what data you choose to import.
Other Cost Considerations (not sold by MBC)
Remote Support Software (allows for remote MBC support/training)
Possible Multi-User Cost (only applies to multi-users solutions)
FileMaker Server - (Optional)
Note: MBC gets substantial discount prices on computer products. Let us know if you would like to purchase any above mentioned products through MBC special relationships. We receive no commission (no conflict of interest), but we do charge you for the time to process the transaction.
(1) Setup of a 4 letterhead templates using the MBC CMDB layout template. The reproduction of "exact" letterhead layouts and/or adding additional business layouts will have additional costs.
* Prices subject to change without notice
<!#43END>
ref no:4534
<!#999SPACERStart>
<!#999SPACEREnd>
<!#999SPACERStart>
<!#999SPACEREnd>
Please send questions about this website to
webmaster