<!HEADER START>
<!TITLE START>

MBC eTrigger

<!TITLE END> <!SOCIAL SECTION START>
<!HEADER END>

<!#55RIGHTSTART> <!#55RIGHTEND>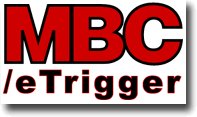 What Is the MBC eTrigger?
Powerful website tool to manage and automate a multitude of online Internet solutions that can make your Web site more interactive, increase traffic and keep your visitors coming back. It truly is the silver bullet with a straight shot to your website and database success.
OVER 500,000+ ETRIGGERS PROCESSED!
A Smoldering Package
MBC / eTrigger is a package of unique
website system solutions
only offered by MBC that helps you engage your customers, collect and manage customer data, and increase your website traffic.
<!#994MultiTableStart>

What will MBC / eTrigger do for you?
MBC / eTrigger makes life easier by automating data gathering and organization and providing unique ways to get customers interacting with your website.
It gets you organized without the hassle: saving you time and money while pulling traffic to your website and increasing your business.
The statistical information it gathers plus tools for promotion make it the perfect way for furthering your marketing efforts.
Inside MBC / eTrigger (see links on right)
The various customizable systems in the MBC / eTrigger package are designed by MBC to run automatically 24/7 so you can let the technology do the work. MBC / eTriggerr gets yours customers involved with your website and sends you their contact info and feedback so you can stay updated on their needs and keep in touch.
Smooth Sailing
Why does MBC / eTrigger work so well? It all goes back to MBC's concept of
Synergy
.
All of MBC's proprietary technology flows together seamlessly to make everything work out better for you. Take a look:
1)

Bob is a busy business owner who wanted to plan a seminar to educate others on his new products. He used MBC / eTrigger's Reservation System to easily invite, track and manage invitees to the event.
2)

After the seminar, he wanted attendee feedback, so he used E-Trigger's Reservation System to export all the contact data into MBC's Contact Manager. The Contact Manager then sent out a personalized E-Blast to everyone asking them to fill out a short anonymous web survey.
3)

The MBC / eTrigger Survey System then captured all forms and collected the information from the webpage. Bob was happy because he received honest feedback from his customers and had a lot of new traffic on his website. He also got to gather great contact data to use in targeted marketing with other E-Trigger tools. Best of all, E-Trigger's automated system did all the work!
Definitely a Straight Shot to Success!
Back to the top
ref no:1801
<!#999SPACERStart>
<!#999SPACEREnd>
<!#999SPACERStart>
<!#999SPACEREnd>
Please send questions about this website to
webmaster