<!HEADER START>
<!TITLE START>

MBC eTrigger - Customer Service Follow Up Email System

<!TITLE END> <!SOCIAL SECTION START>
<!HEADER END>

<!#450IMAGESTART>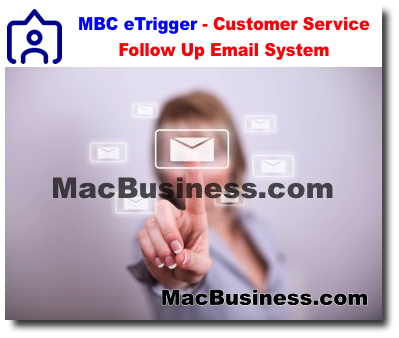 <!#450IMAGEEND>
<!#43START>
What is it?
The MBC eTrigger Customer Follow-Up System automates drafting, scheduling, sending follow-up email engagement.
Similar to how Amazon has automated sending follow up emails after online purchases/engagement.
Examples
Right after you have made a sales call that requires a call to action email in the future, draft/schedule your follow up and you won't have to worry about it until you receive your confirmation email that it was sent.

Automatically draft, schedule and send follow-up thank you email 7 days after purchase of product/service. Great way to request testimonials, surveys, reviews, social media, promote other products/service)

Schedule a series of follow-up emails after a certain type transaction.

Automatically schedule follow-up sales email for website engagements that did not closed

What can it do for me?
Generate more sales.

Increase testimonials, surveys, reviews, social media post on your product/service.

Increase traffic to your website. The MBC/e Trigger provides an easy and cost-effective way to add functionality and interest thereby engaging visitors to return

Reduce the number of man hours required to manage Emails and other information generated by your Web site

Add a new tool to your arsenal for getting products, promotions, information to your customers.

Enable you to offer something special on your website for your clients and create a new revenue source.

Save Time & Money!
Example Project (TheMailboxHawaii.com)
System sends our follow up Email to all website visitors who fill out form on website but did not sign up for a new account.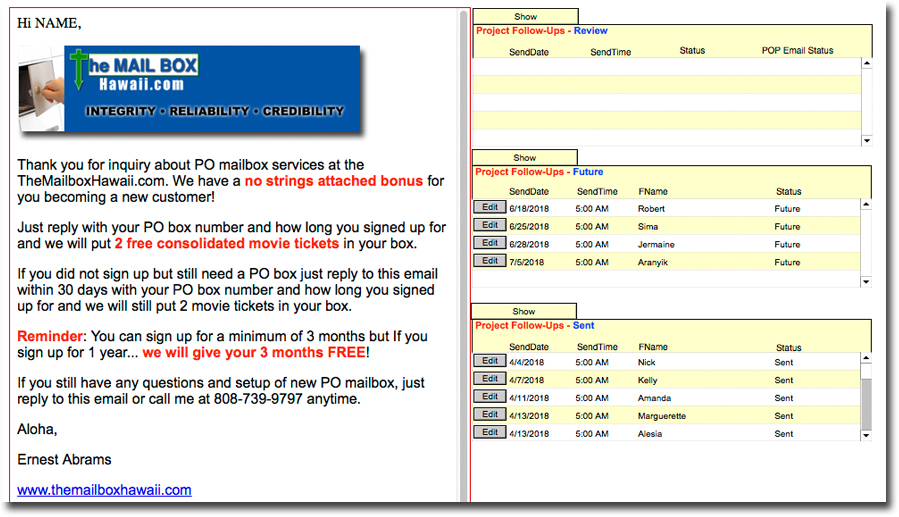 Have Your Own Webmaster?
MBC/eTrigger is capable of being setup to work with other Webmasters.
How Much Does it Cost
MBC eTrigger Customer Follow-Up System comes free with MBC Performance based website solution and some MBC Contact Manager Database Solutions. Custom solutions are available but limited to developer's available and scope of project. Prices vary depending on the scope of the project. Simply put, we are in the business of selling success and return on investment for our clients.

Let MacBusiness Consulting help turn your web users' visits into sales.
Questions? Ready for Demo?
Contact
808-739-9797
<!#43END>
TESTIMONIAL
Back to the top
<!#997MultiTableStart>

Dianne Pereira / Midas Hawaii
Title: Owner - Advertising Director
Date: 6/7/2011
Product/Service: MBC Website Solution
Web Site: www.midashawaii.com
MacBusiness Consulting (MBC) presented us with a cost-effective website solution. In just a couple of months, the results are more than what we expected!

We have received a flurry of exciting transactions like increased service appointments, PayPal orders on our online offers, customer surveys and even job inquiries.

MBC is proactive and reliable and is able to anticipate our needs. They are always available and we can call them anytime to discuss our ideas. This has resulted in constant improvements and new features that you are seeing on our website - from car tips to various signup forms, newsletters and surveys that they have created to help us reach out to our customers.

We are very happy with the results and look forward to the exciting innovations that we and MBC can come up with in the future! If you are looking for a cost-effective, reliable and innovative website, MBC is your solution!

Web Site: www.midashawaii.com

<!#997MultiTableEnd>
View more MBC e/Trigger testimonials
ref no:31975
<!#999SPACERStart>
<!#999SPACEREnd>
<!#999SPACERStart>
<!#999SPACEREnd>
Please send questions about this website to
webmaster