<!HEADER START>
<!TITLE START>

MBC eTrigger - Email/Online Form Extraction/Parser System

<!TITLE END> <!SOCIAL SECTION START>
<!HEADER END>

<!#450IMAGESTART>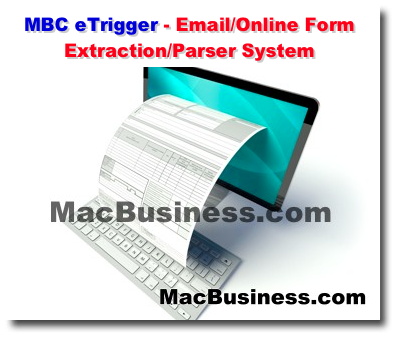 <!#450IMAGEEND>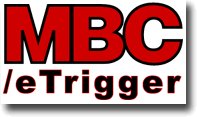 Questions?
Ready for Demo?
Contact

808-739-9797
What is it?
The Email/Online Form Extraction/Parser System allows you to collect Emails that come form an online form or from your Email software (Outlook, Eudora, Entourage, etc) and extract/parse the email data (first name/last name/email address..all separately) and then import them into a database for a variety of practical applications.
Note: Now you can do something with all the emails you been saving.
What can it do for me?
Reduce the number of man hours required to manage Emails and other information generated by your Web site

Automate getting data from your Web site directly to your database system.

Enable you to offer something special on your Web site for your clients and create a new revenue source.

Save Time & Money!
Case Study
Have Your Own Webmaster?
MBC/eTrigger is capable of being setup to work with other Webmasters.
How Much Does it Cost
Prices vary depending on the scope of the project. Simply put, we are in the business of selling success and return on investment for our clients. That's what keeps you coming back.
Let MacBusiness Consulting help turn your web users' visits into sales.
TESTIMONIAL
Back to the top
<!#997MultiTableStart>
Jan Lee
Date: 6/11/2009
Company: The Perfect Tee
Product/Service: Web, MBC/eTrigger, CMDB
Web Site: www.theperfecttee.com

Well MBC has done it again.

Keeping me in touch with previous customers I had forgotten about. Your ability to turn my orders in a great list of contacts amazed me. You created a great message about my product and in the last 30 days we shipped/sold over 80+ orders and generated a significant amount of revenue.

Its what our business needed, but we didn't have the avenue/tools to reach these contacts. Your new service does it all and we are glad we are MBC Clients.

Aloha Jan Lee
THE PERFECT TEENote: Top 5 on Google Search of "Plastic Golf Tee"
<!#997MultiTableEnd>
View more MBC e/Trigger testimonials
ref no:4510
<!#999SPACERStart>
<!#999SPACEREnd>
<!#999SPACERStart>
<!#999SPACEREnd>
Please send questions about this website to
webmaster