<!HEADER START>
<!TITLE START>

MBC Website Home Page Manager

<!TITLE END> <!SOCIAL SECTION START>
<!HEADER END>

<!#450IMAGESTART>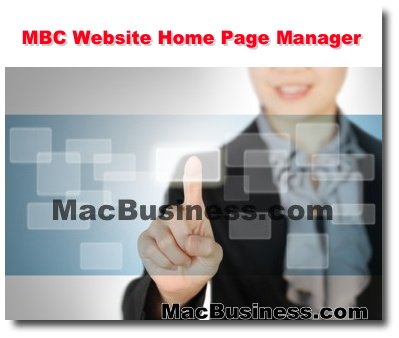 <!#450IMAGEEND>
What is it?
The MBC Home Page Manager is a
Web site Home Page publishing solution
created, designed and programmed by MBC to populate Web site home pages with key interactive content (i.e. news, calendar events, directory items, etc.).
Benefits
Significantly improves your home page appeal, impact, functionality and navigation by having a content rich home page vs. static home page. Many Web site visitors exit a Web site if the home page does not suck them in or they cannot quickly find what they are looking for.

Increases the functionality and navigation of your Web site

A key factor why a Web site is successful is because the site is maintain and updated. Visitors keep coming back because the home page demonstrates that it is maintained with current content.

This tool allows us to keep your Web site maintenance costs low yet provide a online home page that is rich with content, images and related links. Web site maintenance cost can easily be the cause of a Web site project failure.

Keeps your visitors current with up-to-date information

Keeps your visitors coming back because your site is maintained on a regular basis

Increases the level of content synergy you have in your broadcast emails

Increases your search engine ranking

Improves the efficiencies of presenting your important Web site information to your visitors.

Allows you to have a Web site with a lot of depth and content yet keep maintenance costs low.
Features and Function
Automates publishing News on home page from the MBC NewsMaker Database

Automates publishing Calendar Events on home page from the MBC CalendarMaker Database

Automates publishing Directory Items on home page from the MBC DirectoryMaker Database

Automates display of graphics related in items on home page.

Quickly and cost-effectively construct dynamic HTML Emails rich with images, titles and links for broadcast Email marketing campaigns

Optimized for search engines.

Email system to provide updates, confirmations, communication with Web site administrators

Automates a lot of the back-end/administrative tasks that is normally the time-consuming part of maintaining Web site home page.

Customizable because MBC built it from scratch.

And more...
How much does it cost?
Prices vary depending on the scope of the project. Simply put, we are in the business of selling success and return on investment for our clients. That's what keeps our clients coming back.
ref no:2027
<!#999SPACERStart>
<!#999SPACEREnd>
<!#999SPACERStart>
<!#999SPACEREnd>
Please send questions about this website to
webmaster