<!HEADER START>
<!TITLE START>

MBC eTrigger - Online Reservation/RSVP System

<!TITLE END> <!SOCIAL SECTION START>
<!HEADER END>

<!#450IMAGESTART>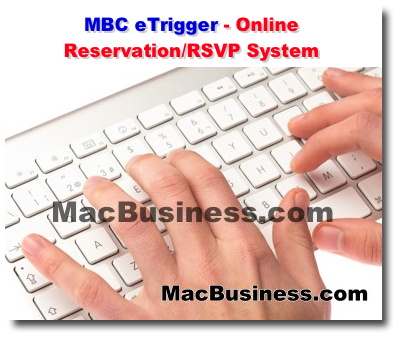 <!#450IMAGEEND>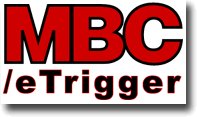 Questions?
Ready for Demo?
Contact

808-739-9797
What is it?
The Online Reservation/RSVP Service allows you to host an event/party/seminar and have an RSVP system on your Web site where attendees can fill out a form and get a unique confirmation number and event instructions via an automatic email confirmation response. Additionally, demographic/contact information that can be collected and published in a secure area on my Web site for my staff to use to track the event. Contact information compiled in a database can allow for personalized blast email prior to event.
Note
: Offering a easy way for potential attendees to RSVP can significantly increase attendance.
What can it do for me?
Increase traffic to your Web site. The MBC/e Trigger provides an easy and cost-effective way to add functionality and interest thereby engaging visitors to return

Reduce the number of man hours required to manage Emails and other information generated by your Web site

Add a new tool to your arsenal for getting products, promotions, information to your customers.

Automate getting data from your Web site directly to your database system.

Enable you to offer something special on your Web site for your clients and create a new revenue source.

Save Time & Money!
Case Study
Online Reservation (RSVP) System
See how a online reservation system paid off well for one of our clients. Offering a easy way for potential attendees to RSVP can significantly increase attendance.
Have Your Own Webmaster?
MBC/eTrigger is capable of being setup to work with other Webmasters.
How Much Does it Cost
Prices vary depending on the scope of the project. Simply put, we are in the business of selling success and return on investment for our clients. That's what keeps you coming back.
Let MacBusiness Consulting help turn your web users' visits into sales.
TESTIMONIAL
Back to the top
<!#997MultiTableStart>
Dave Erdman
Company: PacRim Marketing Group, Inc
Product/Service: MBC/eTrigger RSVP & Survey System


I decided to utilize the MBC/eTrigger Reservation/RSVP system and survey system for a seminar we co-sponsored and it saved us a significant amount of time, gave our clients a convenient way to make reservations and to perform time consuming confirmation/communications tasks immediately.

Because all the reservation data was collected directly into a database system, it was very easy for us to send a follow-up email on the event with a thank you and survey invitation (MBC/eTrigger Survey System). The survey results gave us, the presenter, and our co-sponsoring organizations invaluable feedback.

Dave Erdman
CEO/President
PacRim Marketing Group, Inc.
<!#997MultiTableEnd>
View more MBC e/Trigger testimonials
ref no:4512
<!#999SPACERStart>
<!#999SPACEREnd>
<!#999SPACERStart>
<!#999SPACEREnd>
Please send questions about this website to
webmaster