<!HEADER START>
<!TITLE START>

MBC Contact Manager Database (CRM) Solution

<!TITLE END> <!SOCIAL SECTION START>
<!HEADER END>

<!******* 1 TAB NAVIGATION START******>
Back to the top
<!#450IMAGESTART>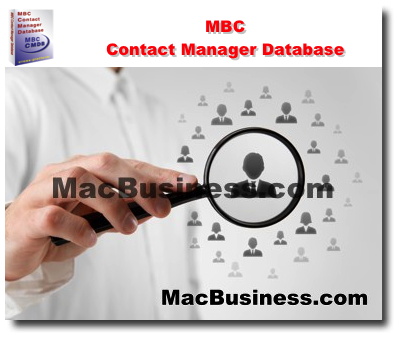 <!#450IMAGEEND>
<!#43START>
The MBC Contact Manager Database (MBC CMDB) is a cross-platform (Mac OS and Windows) FileMaker® Pro contact manager database template designed to perform many key contact management tasks with ease of use and power.
Many of the contact manager applications on the market today attempt to do "everything". Unfortunately, they become so complex and difficult to use that most users utilize only a small portion of overall potential.
The MBC Contact Manager Database has proven to be an "easy to use" contact manager. The bottom line is that users are performing robust contact management tasks efficiently and effectively, many of which could not get done using other contact databases.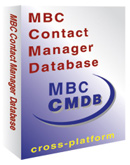 The MBC CMDB is only sold as a package solution (template, customization and support) which ensures you will be able to use it for your work on day one. This is one of the many reasons why the MBC CMDB has been a great success and provides exceptional value for every customer who has purchased it.
The MBC Contact Manager Database (MBC CMDB) is a cross-platform FileMaker® Pro contact manager database template designed to perform many key contact management tasks with ease of use and power.

<!******* 2 TAB NAVIGATION START******> Back to the top
Key Features
Easy to use interface and navigation.

Powerful On-line Help with step-by-step instructions.

Cross-Platform Ready - Mac OS and Windows.

Fast Search feature to efficiently find a contact.

Correspondence Layouts to efficiently generate letters, faxes and E-mail.

Powerful Email System - allows you to send personalized Emails with HTML (images/styled text) and/or Text format directly from FileMaker Pro to an individual or a group of contacts. It also allows you to include attachments.

Robust Keyword System to organize contacts into groups.

Robust Follow-Up System.

Robust History System.

Robust Batch Functions for creating/assigning Follow-Ups, History and Keywords.

Letter Template Library - Create and edit a list of predefined letters that can be easily pasted into correspondence layouts.

Special Events Management - Track birthdays, anniversaries, etc.. of your clients, family and friends, etc.

Validation - We have added a variety of validation routines to minimize the entry of bad data.

US Zip Code Lookup - Will lookup city and state after you type in the zip code.

Hawaii Demographic Lookup - When you type in a Hawaii zipcode, it will automatically lookup the island. Also shows a Oahu region (i.e. Central Honolulu, Windward, Leeward, etc.) if applicable.

Japanese module available.
<!#43END>
<!******* 5 TAB NAVIGATION START******>
Back to the top
<!#997MultiTitleStart>
<!#997MultiTitleEnd><!#997MultiTableStart>
<!#997MultiTableEnd>
<!******* 3 TAB NAVIGATION START******>
Back to the top
<!#996MultiTitleStart>
<!#996MultiTitleEnd><!#996MultiTableStart>
Dave Erdman of PacRim Marketing Group, Inc. - PRTech LLC
Name: Dave Erdman

Company: PacRim Marketing Group, Inc / PRTech LLC

Title: President/CEO

Awards & Recognitions:
2014 Small Business Person of the Year by Hawaii Business Magazine

2018 #1 Public Relation Agency By Pacific Business News "The List"

Service / Products: Database & Website Solutions

Comments:<!#43START>

Our company would never have gotten to this stage without MacBusiness Consulting (MBC) / Ernest Abrams' incredible support and vision for our internal/external communications.

MBC's FileMaker Pro database solutions helped to build our business and contacts. The FileMaker Pro Ad program and proprietary PR platform helped us to grow our PR and Communications business.

I think we were one of the first small business websites out there that was active and updated all the time. Your email blasts at New Years will be remembered for a long long time--clients still remember them (and so do I responding to all of them), and the PacRim monthly Japan update newsletter--wow, how we utilized your tools to build our business for the first 15 or so years!

Thank you for your support and for enabling us to have this recognition. You are a very very important part of our company, history, and success.

MAHALO!!

With much aloha,

DAVE

Dave Erdman | President & CEO

PacRim Marketing Group, Inc. & PRTech, LLC.

<!#43END>
Wincubic.com, Inc. (Aloha Street Magazine & Aloha-Street.com) Testimonial
Name: Hajime "Jim" Ueno - President

Company: Wincubic.com, Inc. (Aloha Street Magazine & Aloha-Street.com) View company bio on right menu>>

Product/Service: MBC Contact Manager with Custom Modules View Solution Details

As a small business, we need to allocate our time and resources wisely. Prior to consulting MBC, we were doing all our contracts, sales reports, production charts etc. manually using excel, which was very time consuming. We also used Salesforce, a contact management database system. Needless to say, we were not utilizing our time wisely and needed to find an innovative way to improve our work efficiency.

We found our solution with MBC. Ernest was able to design a highly complex and sophisticated database to support the many facets of our business -- from contracts, invoices and sales reports to job order sheets, mailing list and labels. The power to combine our contact manager system with our sales activity was an advantageous leap forward. Having everything compiled into one workable database made life so much easier.

As our industry is constantly changing, we need to change with the times also. Working with MBC we are able to customize the database to meet future needs and demands. This flexibility is the most important factor for us because the ability to customize means the database will not go obsolete, but will always sustain our business.

Not to mention, Ernest is very knowledgeable, reliable, supportive and easy to work with.

Thank you Ernest!


Jerry Griffin - Owner

Name: Jerry Griffin - Owner
Company: Discount Windows, Doors and Cabinets
Product/Service: MBC CMDB with proposal/invoice module

We approached MacBusiness Consulting with a complex proposal, invoice, accounting, and operational challenge and MacBusiness Consulting built a "database solution" that far exceeds our expectation.

Our new database system had significantly improve our day to day operations and been a great investment in our company. Our sales representatives can now work remotely, challenges with human error have been greatly reduced, we easily report and track on our proposals, sales and profits. A real bonus has been our ability to increase our revenue through targeted Email marketing directly from our database.

MacBusiness Consulting has clearly demonstrated the talent, trust and reliability to build sophisticated database systems. I cannot stress enough how important is is have a database consultant who is a team player and cares about your success. MacBusiness Consulting clearly is focus on our success and I highly recommend MacBusiness Consulting if you want to save money and make your business grow.

Learn more about Discount Windows, Doors and Cabinets database solution.
Leslie Kim - Senior Vice President Finance

Name: Leslie Kim - Senior Vice President Finance
Company: Sheila Donnelly and Associates
Product/Service: MBC Contact Manager and Support Services

Since 1999, The MBC Contact Manager has been one of our critical public relations/operational tools. We use it to manage and communicate with our contacts, media, vendors, clients and so much more. It performs a multitude of powerful tasks (correspondence, broadcast Emails, keyword management, follow-up, history, etc.) and has been very easy for our staff and management to learn and utilize. We benefit from it EVERYDAY in our office.

Being in the public relations business, we have to be very responsive to our clients and our data is very precious to us. MBC is real team player and professional when it comes to being reliable, protecting our data and keeping our best interest in mine.

The MBC Contact Manager along with MBC's guidance, support and technology has been a great investment. I highly recommend MBC and the MBC Contact Manager if managing your contacts efficiently is critical to your success.
The Mountain Apple Company
Name: Leah Bernstein
Title: President
Product/Service: MBC CMDB & Music Tracking Management System

MBC's Contact Manager has remodeled the way I manage people in the office and our thousands of contacts. It has become an invaluable tool and we now wonder how we lived without its diverse capabilities. It has also significantly reduced daily stress as we can now note our follow-up commitments by priority, date and the Contact Manager gives all other information/tools necessary to make follow-up easy... MBC's Contact Manager and Mac support services can be one of the most useful investments in your business and/or career.
Lola Cohen- Owner
Name: Lola Cohen - Owner
Company: Lola Cohen Company
Product/Service: MBC Contact Manager with custom communication functions

My longevity as a MBC client speaks for itself. I've worked with MacBusiness Consulting Ernest Abrams for over 16 years and his MBC Contact Manager and personal service have played an integral part in building my successful small business.

The MBC Contact Manager is the only database I use and allows my company to communicate to advertisers on behalf of the different clients I represent. It is also user-friendly and allows me to reach clients quickly and efficiently. Ernest has also been key in keeping me technologically up to date and guiding me through the maze of rising technological advances. Over the years he has saved me both time and money with his business advice.Most important, you can count on Ernest. He is efficient and reliable and backs up all his products with personal service 24/7.

The MBC Contact Manager is a great asset to any company seeking to save money and profit from an efficient technological solution!
Geno Godinet - Owner
Name: Geno Godinet - Owner
Company: Access Lifts of Hawaii
Product/Service: MBC Contact Manager with custom job, service job costing modules functions

The MBC Contact Manager Database is really the solution our business was looking for! Ernest has designed for us a great database system that addresses our need to streamline and consolidate our proposal drafting, invoicing, dispatching, job management and service schedule management processes into one efficient system.

Since 1997 when we started using the MBC CMDB, our business has evolved from a manual system into a streamlined database where we are able to manage all of our critical processes. The CMDB was able to significantly remove a lot of human error that used to cost us thousands of dollars. I am happy to say that our company is still reaping the benefits of this great system, saving us a lot of expenses and helping us make money as well by helping to manage our ever growing business. Any company that's looking for an efficient database solution should look no further than MBC's CMDB solution.
Dave Erdman
Company: PacRim Marketing Group, Inc
Product/Service: MBC/eTrigger RSVP & Survey System


I decided to utilize the MBC/eTrigger Reservation/RSVP system and survey system for a seminar we co-sponsored and it saved us a significant amount of time, gave our clients a convenient way to make reservations and to perform time consuming confirmation/communications tasks immediately.

Because all the reservation data was collected directly into a database system, it was very easy for us to send a follow-up email on the event with a thank you and survey invitation (MBC/eTrigger Survey System). The survey results gave us, the presenter, and our co-sponsoring organizations invaluable feedback.

Dave Erdman
CEO/President
PacRim Marketing Group, Inc.
Keahi Pelayo
Company: KU Realty, LLC
Product/Service: MBC CMDB with Real Estate/Escrow Module

Thank you for setting up the E-Blast with the MBC Contact Manager. It has been a huge success. Many phone calls and positive responses to the email.

I have been using contact management tools since the 1980's. Prior to utilizing MBC's Data Base, I used a competing product for nearly 5 years. I began using the MBC Data Base in 1995 and it delivers all of the tools necessary to communicate with clients and potential clients. The seamless integration between traditional letters, faxes, telephones and Email is awesome! If you need to maintain contact with many people, I know of no other tool which provides so much power and stability.


On a final note, any computer product is only as good as the support you receive. Ernest Abrams is accessible and supports this product in a manner other companies should emulate.
David Booth
Company: Events International, Inc. / The Waterfront
Product/Service: MBC CMDB

I have been a MBC Contact Manager Database user since June 1996 and I honestly can't remember how I was able to work efficiently prior to the use of the MBC Contact Manager Database. I've just sent out an Email merge, contracted components of several upcoming projects, made travel plans and issued a press release in one very efficient session.

The MBC Contact Manager Database is a lifeline to my business and I want to thank MacBusiness Consulting for all their guidance & support.
Jan Lee
Name: Jan Lee
Company: AAA Quality Services
Product/Service: MBC CMDB
Ernest, just a note again to say using your contact manager is sure a way to keep in touch with people. If not for an old follow up, I would of never known that my old contact had moved. I have updated her record to reflect her new info and she's still on my holiday greeting list . I have added prospect to her key words and made a new follow up to see If I can get future work.

Your software allows me to do a lot and keep me ORGANIZED. As long as you take the time to enter everything, you can finally know what your up to or what to tackle first.

Life seems to present us with the daily chore of organizing our things to do, especially after a busy week of selling. Thank you for turning me on to your contact manager.

In short, even if I can't enter info on a daily bases , I just take a few minutes, like I am today, go through my stacks of paper, phone message and details of this weeks business , enter them, make follow-ups on all projects and there my week is set... And no prospect forgotten.

In my business deadlines are a must. Your daily follow-up reminder system will again make me more efficient, and earn more money. People always say, "Jan how do you do it". I have to admit, I'm not alone any longer, I have my MBC CMDB.

MBC has been there during challenging times and made them way more bearable. Looking forward to embarking into your E-mail broadcast functions to even make this a better year.

Being self-employed and the wearer of all Hats Your MBC CMDB is my best and only assistance.

Thanks for your prompt responses to my challenges. I couldn't of made a better investment. I really have gotten my moneys worth.. Have a great day and thanks for making mine so much easier.

Tim O'leary
Company: HomeLoans Direct
Product/Service: MBC Contact Manager

Thanks to you, the startup of my new business began with a "bang"!

In the first 3 days of using my new MBC Database solution (along with your expert data conversion), I was able to contact several past clients who were ready to begin the process of financing that I otherwise, might have missed out on.

Your high-energy leadership approach and refreshing business-like manner maximizes my resources and gives me the confidence and advantage my competitors wished they had. Investing in your system was one of the smartest investments I've made and can't recommend it enough! Thank you!
Tom Ocasek
Company: Ocasek Ent.
Product/Service: MBC CMDB

I have used MBC CMDB from the start and it allows me to manage many variations of my data base effectively. Most importantly, I trust the system and the support - it is well designed and maintained.
Jim Cone
Company: Matrix Media of Hawaii
Product/Service: MBC CMDB

If you are talking to your clients via e-mail it is only a matter of time before you are utilizing a product like the Contact Manager.

We had been working with Ernest for a couple years and we were still hesitant to "jump in" with another database. Matrix Media finally went for it, setting up all our computers. We utilize the Contact Manager to perform HTML e-mail blasts weekly. The MBC Contact Manager is the most accountable, revenue generating database system we have utilized to date. In addition it greatly helps having Ernest, and their whole team are available if and when we need them.

We have found there is simply no end to what the Contact Manager can do.

Our recent Email broadcast was a very successful. 48 actual manual responses within the first two hours. There couldn't of been a better way to end my year than to have all this very warm correspondence flowing back and forth.

Ernest is not only great at what he does, but he forces his greatness upon me and I eat it up with tremendous gratitude.
Leonard Couzijn
Company: RE/MAX Honolulu
Product/Service: MBC CMDB

I purchased the MBC Contact Manager from Ernest Abrams and had it customized. At first I was reluctant to switch from my old system which was familiar but very limited.

I now use Ernest's system for all my databasing, clients information and follow-up, and all my labels and mail merging.

I am also impressed with his computer skills and his after the fact service is excellent. I would whole heartedly recommend his system. Leonard Couzijn, RE/MAX Honolulu, 808-226-1084.
Jim Knight
Company: CPI International
Product/Service: MBC CMDB

My take on the MBC Contact Manager software package:
The Contact Manager as developed by MBC is without question the answer that many of us who find it necessary to keep up to date information about our customers have been waiting for. I find it just about impossible to find or think of a desired feature from a customer contact database that is not found in MBC's Contact Manager. This product represents a new paradigm for managing customer information. During the past fifteen years, I have managed biotechnology related sales and service organizations with hundreds of representatives and customers that numbered well into thousands, this was of course before the MBC Contact Manager existed. I see this product as ideally suited for my start up business today and robust enough to address the needs we established growth-oriented organizations. The MBC Contact Manager is a no brain investment if one wants to see productivity around the office increase.
Terry Hogue/CEO
Company: Hogue Publishing, Inc.
Product/Service: MBC CMDB

MBC's Contact Manager Database has made Hogue Publishing far more productive. Both myself,and all our employees do more in less time. We spend less time communicating with our customers because the CMDB's very powerful communication tools allow us to pro-actively contact and reassure our customers that they are in good hands. Customers are always impressed when you can manage the details of their orders quickly and correctly. The CMDB allows us to manage tens of thousands of customer details with only 4 people in our office. The thoroughness that the CMDB affords us inspires our customers to buy from us again and again.

MBC gives all our staff efficient technical support. Our staff knows MBC will find solutions to any problem. MBC technical support is like their CMDB software: quick and efficient!

In summary, I recommend the CMDB to any company that wants to impress its customers while cutting costs at the same time.
Brad Coles
Company: Sand Island R & B
Product/Service: MBC CMDB

Love to do the E-mail blast.
It increases attendance, and that's a good thing!
I wish all support people were as well informed as Ernest.
Vanessa Beaton
Product/Service: MBC Contact Manager


I have just experienced my best month ever, April 2006, since my company's inception in 2003. I can directly attribute this success to the use of the MBC Contact Manager and MBC's technical expertise, creativity and general business support.

With Ernest Abrams, you get commitment, trust, reliability and at all times he'll have your best interest in mind. I'm very happy that Ernest Abrams is on my team. The purchase of MBC's products/services has been one of my best investments in my business.

I highly recommend the MBC Contact Manager Solution to anyone interested growing their business.

Vanessa Beaton
Lorrin L. Lee
Company: Lorrin & Nina Lee
Product/Service: MBC CMDB

I've been using the MBC Contact Manager since 1996. I use it daily. It is one of my best investments in my online and offline business.

I enjoy the simplicity and ease if offers - for me to create and print out customized envelopes and letters. I use it to send out informative bulletins to my many mailing lists. It saves me a lot of time and is a great pleasure to use.

As an Internet Entrepreneur, I find it gives me a strong competitive edge over others. I can do things faster and better with more professionalism. My greatest use is in finding anyone's record in seconds and following up consistently...with the notes I have taken on each person.

I highly recommend it to anyone who wants to enjoy building their business while having fun.
Julia Stamper
Company: Quiet Storm Records
Product/Service: MBC CMDB

All of the features in the MBC Contact Manager exceeded our previous ACT Database. I was thankful to have Ernest guide us through the conversion of our data, E-blasting and faxing.

I have used the database for a year and know without it, organizing ALL of our contacts would have been difficult!!!
Vicki Casella
Company: San Francisco State University
Product/Service: MBC CMDB

This MBC Contact Manager has made a dramatic difference in our communication with faculty,staff and others... we are able to generate specific Emails or letters based on any number of variables. Since the Email looks completely customized, we get far more responses than ever before.
Brian Macnish
Company: Merrill Lynch
Product/Service: MBC CMDB

With MBC's Contact Manager Database and Ernest's tremendous support and backup, I have significantly increased my efficiency. I'm now able to better serve my existing and prospective clients and feel that I'm utilizing my Macintosh to its maximum potential.
<!#996MultiTableEnd>
ref no:1800
<!#999SPACERStart>
<!#999SPACEREnd>
<!#999SPACERStart>
<!#999SPACEREnd>
Please send questions about this website to
webmaster